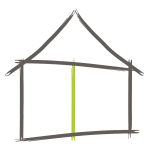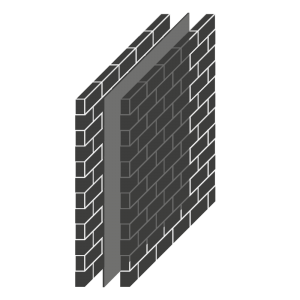 For a natural and eco-friendly home, choose Blocco Ambiente® to build the partition walls: discover how great it can be to live in your home.
Blocco Ambiente® helps to keep constant the percentage of humidity inside the home.
The walls perform as humidifiers and dehumidifiers: when the humidity level is too high, the hemps blocks absorb the excess humidity, and then release it when the air becomes dry as a result of wind or excessive heat.
Wide range of possibilities: Different thicknesses are available to build the partition walls (10-12-20 cm)
Higher living comfort thanks to the properties of lime: hemp-and-lime walls work as humidifiers and dehumidifiers, making the domestic environment more welcoming.
Excellent sound insulation, with a coefficient of 0.8 and a noise reduction up to 50dbi
100% recyclable: hemp-and-lime partition walls can be demolished and easily rebuilt with the simple addition of water and lime. This makes it possible to easily renovate or modify the rooms of the house, and with limited costs.
Lime is also an excellent antibacterial and disinfects the water vapour which is returned in a natural way. Blocco Ambiente® is also a great ally of the environment: the first material with a negative carbon footprint !! For its production, for its use and for its disposal it does not emit CO2 in the atmosphere but sequesters it, and keeps it forever in the form of carbon (wood).
Tecnocanapa is a range of high-performance building materials designed for natural buildings and passive houses. It meets the fundamental elements of sustainable development regarding the life cycle of the materials: minimising energy consumption during the production phase, during the implementation and for the entire lifetime of the building.